Startbeitrag von gomulka am 19.01.2015 15:30
:cheers:
hallo a good news the Slovenian Railways have obtained permission to travel to the electromotive series sz 312 'Desiro', and between Sežana and Divača and Villa Opicina Villa Opicina come back. January 5, 2015, Slovenian Railways trains replace the existing bus services between municipalities and between Sežana and Divača and Villa Opicina .With the new timetable, which came into force on 14 December, there are 5 daily connections by train between Sežana and Villa Opicina. This is an extremely important step for passenger traffic and the Slovenian Railways, opens the possibilities for the future, to strengthen cooperation and links with rail operators Italian - Trenitalia, including the introduction of a train in the direction of Venice (Venice) and in the direction of Milan, for the purposes of Expo 2015, "said the director of Railways - Passenger Bostjan Koren.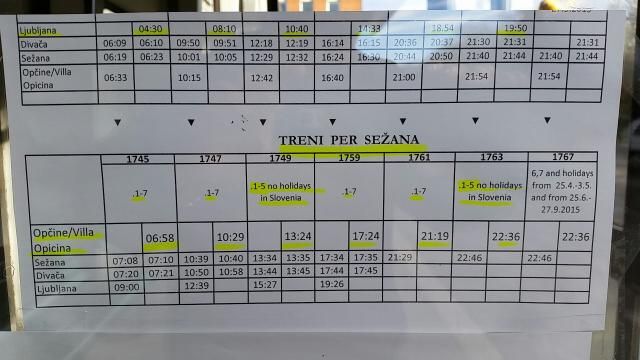 my website luca's train page
http://trainpagesofluca.net/
]http://trainpagesofluca.net/[/url]
auf meiner Homepage alle Zug-Liebhaber und Enthusiasten. Mein Name ist Luca und meine
Interessen sind Züge, besonder alle slowenischen Lokomotiven und Züge die
laufen in Kroatien rund um Bahnhof Rijeka, und
von Grenze zu Slowenien nach Rijeka in Kroatien, weil auf dieser Strecke laufen
Lokomotiven sind baugleichl mit einigen slowenischen Elektro und Diesel.
BYE moped
Lokomotiven. In meiner Sammlung habe ich auch viele slowenische
DMU und EMU die sind alle hausgemacht.
BYE gonulka